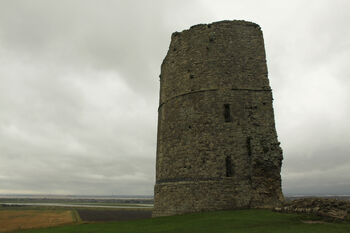 There is a common tale from Hadleigh that has been recounted to us a couple of times over the last few months.
The story is told of sightings of a 'woman in white' at Hadleigh Castle, which itself is a magnet for tales of smugglers and the like. The woman is seen during the day time and interacts with those whom she meets. The most prevalent story is of Sally, a milk maid from Castle Farm, who during a walk up to the castle one day saw the woman-in-white. The ghostly woman told her to return to the Castle at midnight, but Sally was too scared and didn't return until a few days later, in the daylight. She saw the woman again, who was so angry at her for not returning at night, that she hit her around the head so hard it dislocated Sally's neck. Sally fled from the scene and survived the incident, but from that day on was cruelly known locally as 'Wry-neck Sal'.
Another version of this tale was also told to me. The woman-in-white was seen by a young lady who again was instructed to meet her at the castle at midnight. The lady decided to venture in to the darkness and keep the rendezvous. But when she arrived she found not the woman-in-white, but a young man, who had also been given the instruction to meet there. The two saw this as a sign and left together to live a happy life together. Neither of them saw the woman-in-white again.
Sources
Recounted by two local residents.